Kuzzle is very proud to be selected to the French national event "48h Techno" dedicated to innovation on 13rd and 14th of June. This two-day event organized by Crédit Agricole Group brings together a lot of innovative international companies like Microsoft, IBM, Orange, CapGemini, Cisco, ... and a bunch of startups we are lucky to be part of!
As an exemple, we will perform the real time online transmission of information between an agent and a customer to sign a document. We developed an IoT and robots demo with CapGemini to show the efficiency of our backend.
Meet us on Business Center SQY park Paris
Come to experiment real-time collaborative digital writing on multi devices (IoT, mobile, tablet, desktop, etc) with the Kuzzle backend platform!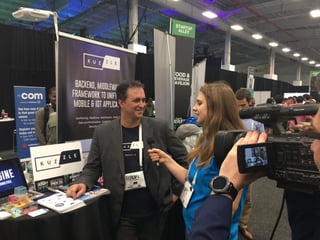 June 13-14th / 9AM-4PM
BUSINESS CENTER
SQYPARK
83 boulevard des chênes
78280 Gyuancourt
To follow 48h Techno event:
Follow the live event on social media and share the best moments:
Twitter: @48hTechno / #48hTechno / @Credit_Agricole