Our Kuzzle IoT platform evolves and is now equipped with the LoRa Network Server!
Kuzzle IoT is interoperable and agnostic to all sensor and network technologies so that you can develop the IoT project best suited to your needs.
How will this network integrate into our Open Source Backend? The answer is in our article!
What is a LoRa network?
The LoRa (Long Range) Network is a wireless communication technology that offers long-range and very low power consumption for connecting devices to remote networks. The benefits of a LoRa network for IoT include long-range, low power consumption, and improved interoperability between devices and networks.

A LoRa network can also be used to transmit and receive information over long distances, without having to use Wi-Fi or 4G/5G networks.
Deployment of a private LoRa network is possible at different scales from building to the city and allows for cost-effective data upload from sensors.

Since the closure of the LoRa network operated by Objenious, a private LoRa network is the obvious choice for the connectivity of its IoT application on a defined territory.
At the heart of the network, the LoRa Network Server
A LoRa Network Server (LNS) is a software application for managing and monitoring LoRa networks.
The main functionalities of the LNS include managing and controlling devices connected to the LoRa network, developing LoRa applications and services, and integrating LoRa data into an IoT platform.
The LNS can also be used to monitor and control LoRa traffic and monitor performance and data quality.
As part of its integration with an IoT platform, the LNS is responsible for redirecting the raw data frames received by the sensors to the platform.
In turn, the IoT platform will be able to use the LNS APIs to forward commands to be executed on the sensors' side to dynamically reprogram their functionality.
Integration with the Kuzzle IoT Platform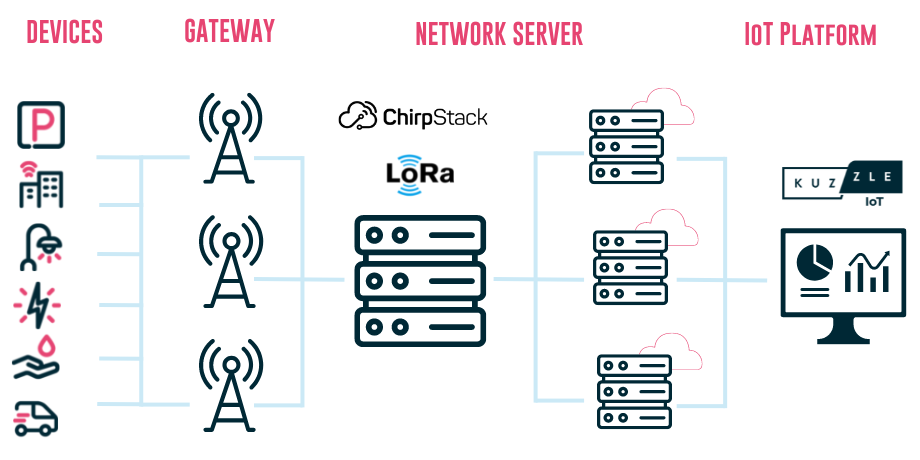 The integration of a LoRa Network Server (LNS) into the Kuzzle IoT Platform enhances our feature set and takes us to the next level of maturity by integrating a component directly at the IoT network level.
By integrating the LNS into the Kuzzle IoT Platform, our users benefit from improved interoperability between sensors and networks and improved management and control of the latter.
Concretely, the Kuzzle IoT Platform instrumentalizes the LNS to provision LoRa sensors and configure data retransmission mechanisms.
Conclusion
The unified management of the sensor lifecycle is now possible from the provisioning phase on a LoRa network to the exploitation of the data via dashboards through the rule engine integrated into the Kuzzle IoT Platform.

Whether you have 10 or 10 000 sensors on a private LoRa network, the Kuzzle IoT Platform can manage them and securely receive data.

Do you want to know more about our Kuzzle IoT platform? Nothing more simple, click below:
Join the community!
Kuzzle is constantly evolving, as is our community, so come join us on Discord: http://join.discord.kuzzle.io
We are free software, so don't hesitate to contribute ;)
To keep up to date with our news, follow us on Twitter, Facebook & LinkedIn