Kuzzle will be at CES 2018 Las Vegas, the international Rendezvous of global innovation, to feature its IoT-ready Backend platform designed to reduce by 40% the time to build new age apps while delivering seamless customer experience across all channels and devices.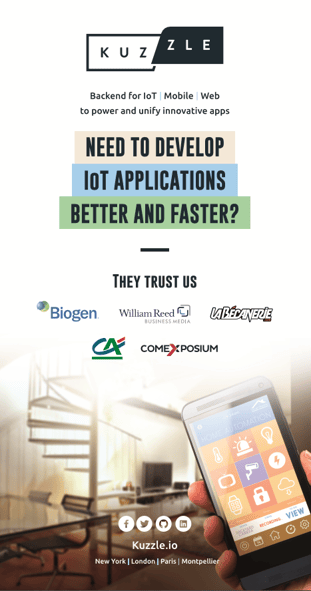 Kuzzle Backend platform enables multiple industries – including energy/utilities, healthcare, media publishing and banking – to bring an innovative digital product from inception to market in weeks instead of months. It acts as a middleware to enable real-time multi-device multi-protocol M2M communications, thus enabling the creation of rich and hybrid omnichannel environments.
Kuzzle Backend platform includes Real-Time, Multi-Device, Multi-Protocol, Geo-Tracking, Geo-Fencing, Security, Device Provisioning and User Authentication turnkey features. It is suitable for web apps, hybrid or native mobile apps and IoT projects.
Kuzzle sets apart from other
market
solutions with its advanced capabilities to scale and handle fast growing volume of
real-time
users, devices and messages processed across a variety of IoT networks such as LoRa, Sigfox, WIFI or GSM and through a variety of communication protocols such as MQTT, Websocket or HTTP REST.
With its advanced real-time platform, Kuzzle is the perfect product market fit to address IoT projects in the Connected Car, Smart Home, Smart City, Industrial IoT and Connected Health Businesses.
Meet our team at CES 2018
Kuzzle team will be featured at CES in the Eureka Park Marketplace, Sands Expo Center, Hall G, Booth 51249.
Learn more. You'll be there ?
If you can't make it, you can schedule a dedicated webinar to discuss your IoT challenges : schedule a webinar